DIRECTING A COMMERCIAL FILM IS
NEITHER A COMPROMISE NOR A COMEDOWN
What is Takshak all about?
It's about young people in Mumbai and the choices they have to make in their lives. It is their choices that will determine the course of their future, and affect others. The story is set in the late '90s and revolves around a middle class family.
Why did you decide to cast Ajay Devgan and Tabu?
Ajay and I had been wanting to do a film together for a long time. When I had approached him, I just had the story in mind. I had not yet written the script. Without asking for the script, Ajay immediately agreed to do the film. His faith in me was touching. Tabu is among the best actresses we have today, and she comes across as very sensitive on screen. Among the younger lot, Tabu and Kajol are the best. Tabu's performances are controlled and she underplays her role. She's playing a modern, intelligent girl in my film.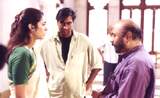 I will be introducing Rahul Bose to Hindi films with Takshak. He was noticed for his performance in English, August and in India's first English teleserial, A Mouthful Of Sky. He is a stage actor and is very confident. A new girl who will be paired with him has almost been finalised. Amrish Puri, Govind Namdeo, Atul Kumar and Anupam Kher play other important roles.
Your film also has songs this time, right?
Yes, A.R. Rahman has composed six songs and the lyrics have been written by Mehboob. Some poems by Suryabhanu Gupta have also been composed.
Why did you feel the need to switch over to commercial cinema?
Takshak is a fusion of both, art and commercial type of films. In it, you will find the sensibility of parallel cinema and strong elements of popular cinema, like a dramatic narration. A lot of hue and cry has been made about me, an art filmmaker, directing a commercial film. But let me tell you it is not a compromise and neither is it a comedown. It's just telling a story in a different form. It's the form which is an artistic strategy, and I have just changed my strategy this time. That's it.
Is there any kind of pressure on you since the distributors are wary of films made by art film directors?
I have been fortunate not to experience any such pressure. The story is mine, I have got star-actors, only the format is different from my usual kind of film.
What does Takshak mean?
Takshak is the name of a snake in the Mahabharat. But there is no parallel between the epic and my film.